Company History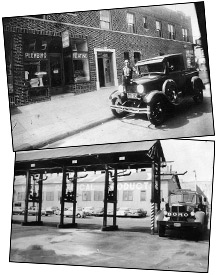 Boro Energy was founded in 1929 by Joseph Cohn, who began by offering plumbing and heating services to homeowners in Brooklyn. Over the years, Joseph installed thousands of boilers throughout Brooklyn, some of which are still keeping homeowners warm.
Today, Boro Energy remains in the family, owned and operated by Jeff Cohn, the third generation of the Cohn Family. While Boro Energy started by just serving Brooklyn, its service area has since expanded and now includes customers in Brooklyn, Queens and Manhattan. With a full service fleet of seven oil trucks, seven service vans, and a state-of-the-art installation vehicle, customers can always rely on Boro Energy for complete comfort.
In 2014, Boro Energy moved to a new, state-of-the-art facility centrally located in Bayridge, Brooklyn. Our new headquarters is bigger and better than ever, with an improved networking infrastructure that will streamline dispatching operations and help us meet your needs more quickly and efficiently.